My Little Pony: The Movie is a film released in 2017 and directed by Jayson Thiessen. The runtime of My Little Pony: The Movie is 99 minutes (01 hours 39 minutes). The leading star actors of My Little Pony: The Movie are Andrea Libman, Ashleigh Ball, Cathy Weseluck, Emily Blunt, Kristin Chenoweth, Liev Schreiber, Nicole Oliver, Tabitha St. Germain, Tara Strong, Zoe Saldana. So far the movie has been viewed 5668 times. The main movie genre categories for My Little Pony: The Movie are: Adventure, Animation, Family, Fantasy. Movies similar to My Little Pony: The Movie are Star Trek VI: The Undiscovered Country, War, Inc., King Kong, Team America: World Police, Roadside Prophets, Tom and Jerry Meet Sherlock Holmes, A Chinese Odyssey Part One: Pandora's Box, Last Holiday, Three Kings, The Rock, The Golden Compass, Herbie Fully Loaded, Scooby-Doo 2: Monsters Unleashed, Noah, 12 Rounds 2: Reloaded, Dragonworld, Mythica: The Iron Crown, All Star Superman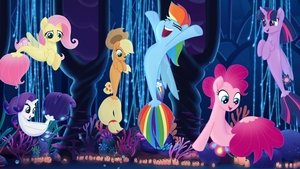 A new dark force threatens Ponyville, and the Mane 6 – Twilight Sparkle, Applejack, Rainbow Dash, Pinkie Pie, Fluttershy and Rarity – embark on an unforgettable journey beyond Equestria where they meet new friends and exciting challenges on a quest to use the magic of friendship and save their home.
If you have watched My Little Pony: The Movie rate it using the form below and inform other viewers about it.
Loading...
Release:
2017
Runtime:
99